Thank you so, so much to everyone who has filled out the SIRVA Survey as of yet and into the future. Please don't forget to update us with the follow-up survey if anything's changed since you first filled it out. Your responses will help us understand what to do about SIRVA. My case is only one of many and I want to see if patterns emerge from other people who are also dealing with SIRVA.
So far what I can see from the Survey are many individuals with shoulder and arm pain of varying severity. Many of us have pain primarily reaching overhead but others have pain in any position, with jarring motion (like walking or running), and most people also have at least a few other motions besides overhead that are also painful (like reaching behind the back and/or pushing/reaching out in front). There are some less common symptoms, like burning, tingling, radiating pain down the arm. Some of the specific daily movements that cause people pain in the Survey are:
trouble driving with that arm
taking off a sweater overhead
most excruciating pain was putting on, taking off a sports bra over my head
reaching for seat belt
pushing outwards against resistance (for example, the waistband of stretchy pants)
reaching forward to pick up an item straight out in front of me
hanging from arms
cannot tie anything behind my back
put on deodorant, brush hair, wash hair
couldn't "tip the can" (holding arm at 45 degree angle from body and rotate thumb toward the ground)
putting on my coat, couldn't lead with my hand/arm
opening the gate to my backyard (the latch is above shoulder height)
Many of these that you guys describe are familiar to me as well, especially the ones having to do with dressing and driving.
The range of symptoms is understandable considering the different structures that can and do get hit in a mis-administered shot (like the different parts of the rotator cuff, the bursa space, the bone). Describing your symptoms to the doctor may help them zero in on the location of the shot and damage, but diagnostic imaging (especially MRI) is really pretty key here, and I recommend that you advocate hard for repeated imaging after a while if things are not improving based on plans made with the first one (here's my example of why).
Also interesting to see are the places you all got the shot, who gave it, and what medical practitioners have been helpful or unhelpful in treating it. (Because I've gotten a lot of questions by email about what to do about it, I will soon devote a whole entire separate post with suggestions about unhelpful/skeptical/unfamiliar doctors who make dealing with SIRVA all that much more miserable.) But first, about where you got the shots that gave you SIRVA: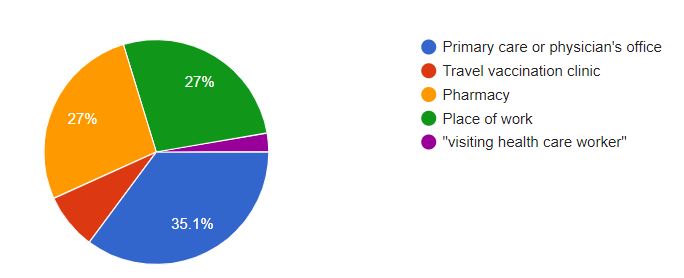 Shockingly many come from the primary care doctors' offices and even the doctors themselves. I would have considered that a "safe" place to get a shot—but it's also where I got mine and it was administered by a medical assistant. Here are the types of people who administered the fateful shots: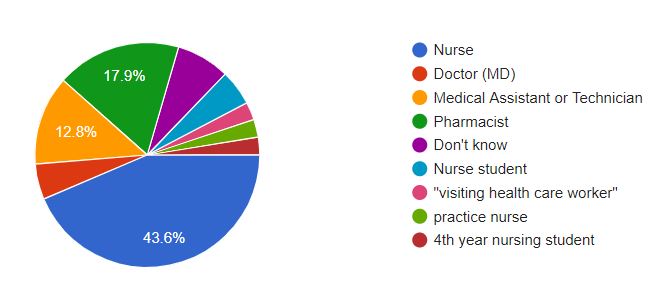 The most shocking story I read from a SIRVA Survey response was about three people at the same workplace who all got SIRVA on the same morning from the same person giving out the shot badly. This person wrote:
"The day I got SIRVA, 2 other people at my work got it that same morning (there were 4 different clinics at my work and us three got it from the same person). One of them got better quickly, another is a bit better but still in some pain and limited motion. Mine appears to be getting worse."
That is horrifying. Along similar lines, though, I was in a doctor's office when he called a well-respected shoulder surgeon at a huge medical center. That surgeon said that basically all of the SIRVA cases he had seen had been their own employees. That is, because the large medical center required all of its employees to get flu shots, as is common, the shoulder specialists were seeing the SIRVA cases among their own employees and coworkers. It's a terrifying and sobering thought that even medical professionals (like this shoulder surgeon) can't "get the word out" or somehow manage to get their own workplace to be preventative of severe shoulder injury among their own employees.
And then there are the statistics on which vaccine was administered for the mis-injected shot. I want to crunch some numbers from VAERS and other sources, but I think it is not a stretch to hypothesize that there are (a) rising numbers of SIRVA cases and (b) that the push to get the flu shot as widely disseminated as possible is responsible. (Still important to note that flu shots save lives.) Here are the results from the Survey about which vaccine was in the misadministered shot: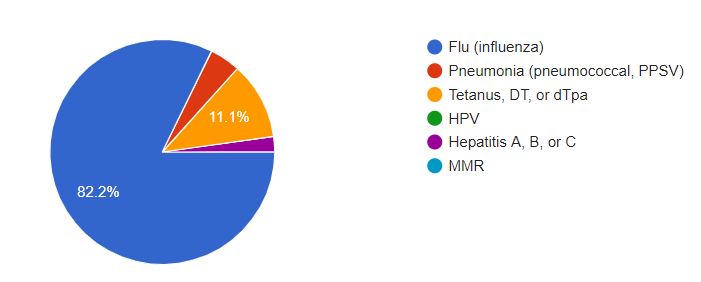 For now, this concludes this look at the SIRVA Survey data. I will get to the good stuff, like what people have tried and whether it is helping, when we get more data and patterns emerge. The problem is that most people filling out the Survey are not yet healed. This makes sense because we all go looking desperately for information (I sure did) while it is still at its most debilitating, and that's when people found the Survey. So, please fill out the follow-up Survey. It's not all bad news, though. Among the people who filled out the Survey who have recovered (everything but the pink pac-man in the figure below), for many of them it was in just a few months, almost all less than 6 months. That should be reassuring for many of you who are in the early stages of confirming you have SIRVA:

Well, for plenty of people it takes longer than 6 months and my website hasn't been around long enough to capture the data from people who got SIRVA recently yet successfully recovered in 1-2 or 2+ years. As time goes on I hope to add myself to that bin. The 1 year anniversary of my shot is rapidly approaching and I'm doing better but still not feeling really close to recovered or pain-free for doing the things I love.