The Vaccine Adverse Event Reporting System (VAERS) is the official CDC web reporting tool for vaccine-related problems. You should report your Shoulder Injury Related to Vaccine Administration (SIRVA) case to VAERS, but your doctor is supposed to add it, too. The post below is a bit dry, but the main message is: go over to VAERS and submit your case, or make sure your doctor did, so that the CDC can track SIRVA better.
Please also fill out the SIRVA Survey on this website, because the goals of the two are different, as described below.
Who should submit to VAERS, you or your doctor?
The VAERS brochure says, "CDC and FDA encourage anybody who experiences any problems after vaccination to report to VAERS."
An interesting statement appears in the CDC's Vaccine Recommendations and Guidelines of the ACIP chapter on adverse reactions: "The National Childhood Vaccine Injury Act of 1986 requires health care personnel and vaccine manufacturers to report to VAERS specific adverse events that occur after vaccination. … Manufacturers are required to report all adverse events that occur after vaccination to VAERS, whereas health-care providers are required to report events that appear in the reportable events table on the VAERS website" (note: SIRVA is on that table). So, your health care provider(s) are supposed to enter your case into VAERS, but I would be surprised if many of them know about this obligation.
While it may seem like a submission from your doctor is going to be more medically accurate than one from you, I've been alarmed to find so, so many errors in my doctors' reports that become part of my medical history unless corrected. (One doctor's notes after I saw him said, "[She] has a history of stroke after a flu injection in December 2017." OH. MY. GOODNESS, that could not be more wrong, and I did nothing in my appointment that would give them that horrible idea. Replace "stroke" with "shoulder pain." I have asked them to correct it, and just marvel at the inattention to detail that would produce an incorrect statement like that.)
What are VAERS data used for?
The VAERS FAQ says that the data are used to "identify unusual or unexpected patterns of reporting that might indicate possible safety problems requiring a closer look."
The VAERS data are also searched by researchers seeking to understand SIRVA, so it's important to either make your information is submitted as accurately as possible with your symptoms and the diagnoses your doctor has given you, and information from your testing (e.g. MRIs) if possible.
A review of the data from 2010-2016 was presented in the meeting minutes of the CDC's Advisory Committee on Immunization Practices (ACIP) (see page 104). For example, the table below from a presentation at this meeting shows a comparison between "shoulder dysfunction" (SIRVA) cases resulting from inactivated influenza vaccine (IIV) and non-SIRVA cases in the database, to tease out whether there are differences in the populations.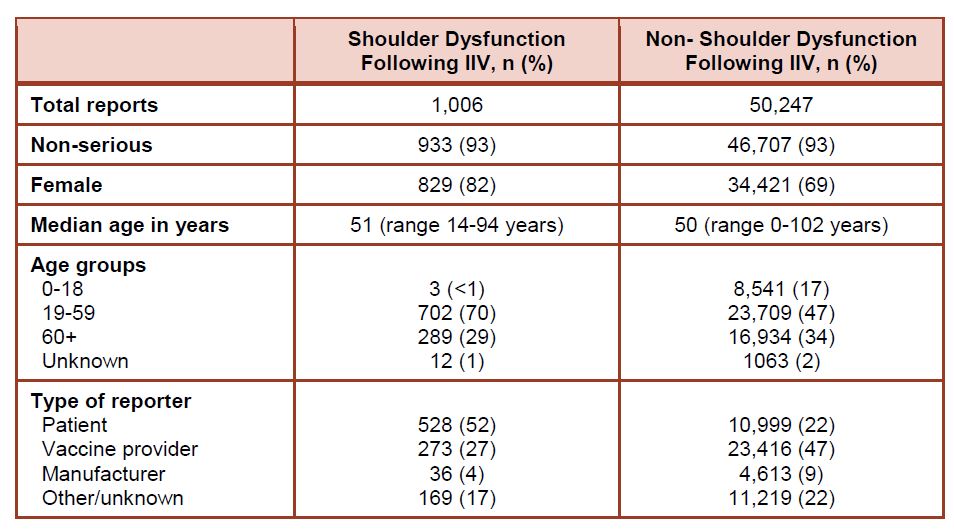 One notable finding is that the percentage of female victims for SIRVA is 82% compared to only 69% for non-SIRVA entries. This agrees with literature reports suggesting that women are more likely to incur a SIRVA injury because of their generally smaller musculature. (Sorry, men who are in the ~18% of SIRVA recipients. It's also pretty clear that SIRVA doesn't just occur with smaller people – one SIRVA Survey respondent was a recreational weight lifter, and I'm sure he doesn't have small deltoid muscles! Anyone can screw up the administration of a shot on any person, but it's just more spectacularly incompetent to screw it up on someone with ample deltoids).
As a side note, the meeting minutes of the ACIP are pretty interesting. The ones for October 2017, February 2018, and June 2018 are presently available online. Note that the October 2017 meeting had several presentations on SIRVA while the two in early 2018 did not. Sadly, SIRVA did not appear to be on the agenda for October 2018 either, but there are a lot of other serious things for these professionals on the vaccine committees to discuss.
What else is going on over at the CDC?
I'm not ready to talk about the National Vaccine Injury Compensation Program (VICP) yet, and anyway, it's not technically part of the CDC. But if you've been looking for information about SIRVA you've probably already heard of it and yes, SIRVA is one of the recognized causal links between vaccines and injuries.
But what I really want to know is what the CDC is actively doing to try to reduce the incidence of this very preventable injury. Are they doing enough? The CDC in 2017 appeared to be ramping up a campaign to educate the adminstrators of vaccines about the risks of serious shoulder injury from improper injection technique. I've written elsewhere about how I don't like the needle length infographic in this 2017 poster they made, but at least it represents a stab (har har) at getting the information out there about SIRVA:

They also show the "safe triangle" for injection. Can anyone tell me if this seems too generic for all body sizes? On their picture here, the middle to bottom of the humeral head is visible through the "safe triangle." My shot hit me in the humeral head. At the spot I was hit, using ultrasound, Dr. Bodor found the bone was less than half an inch (0.4 inch) from the surface of my skin. Does it make sense for a 1 inch or even 5/8 inch (0.625 inch) needle to be this close to the base of the humeral head (on a small person) as in the figure below? If anyone's a doctor, please let me know what you think: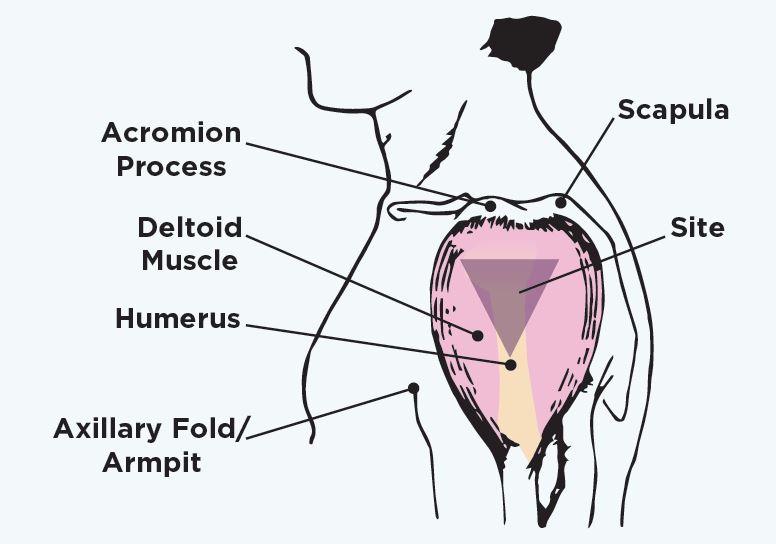 Coincidentally, I saw this picture in a random article in the New York Times just the other day and did a double-take: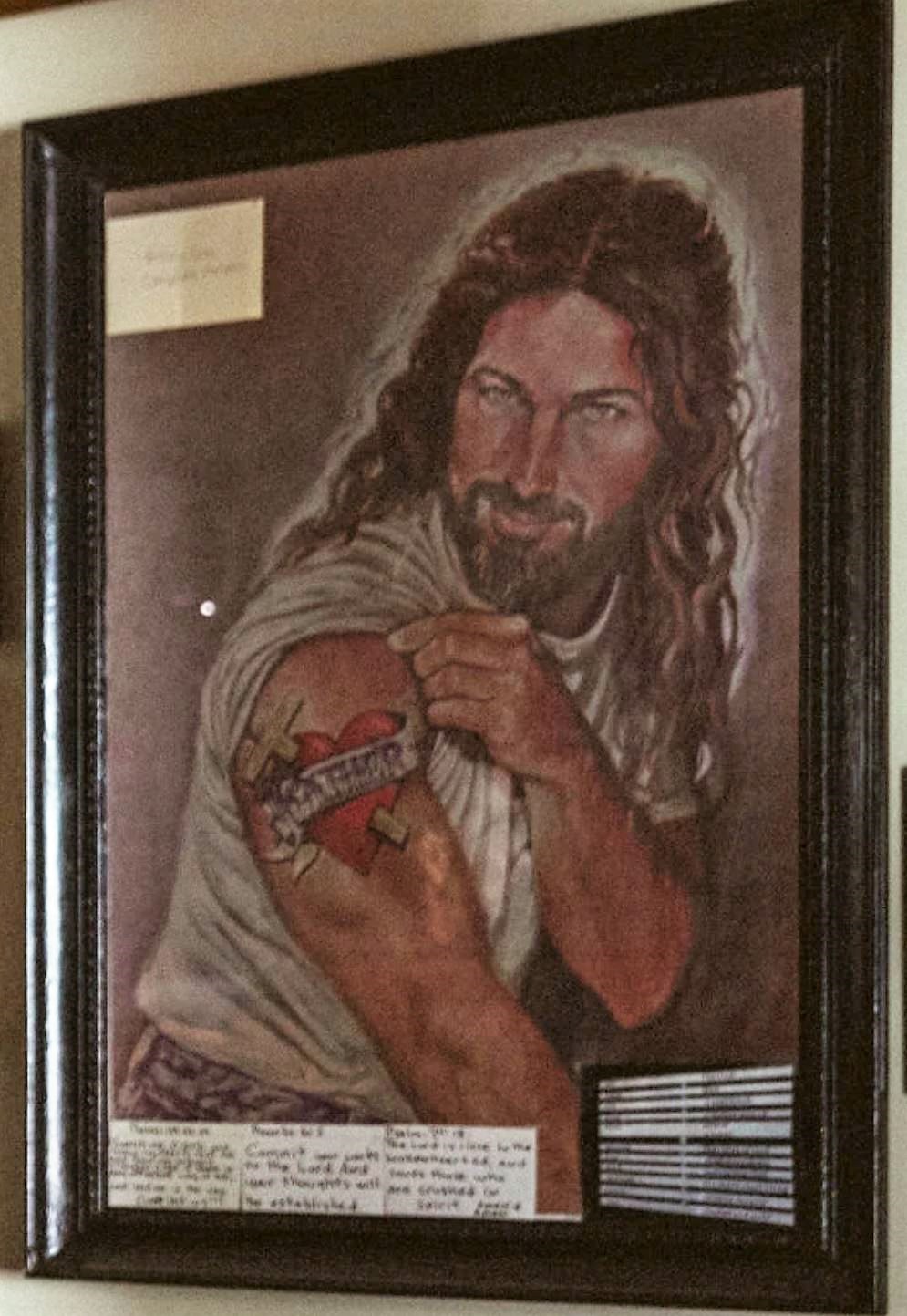 Is this painting showing us the safe triangle for injection or what?! Very random.
What's the difference between the SIRVA Survey and VAERS?
I started the SIRVA Survey because I would like to learn what works for people and how long their cases last, as well as some other quality-of-life issues, such as the response of health care providers to your injury (i.e. do people believe you?). The SIRVA Survey obviously is focused mainly on shoulder injuries, while VAERS tracks any and all problems people report after vaccinations. This makes VAERS very large and unwieldy to sift through, and it can be difficult to tease out the SIRVA-only cases (believe me! I've tried, and you should too!) because many do not use the word SIRVA, for example.
I was aware of VAERS when I started this and I'm definitely not trying to create a separate VAERS. When there is enough data in the SIRVA Survey to analyze the information, I intend to start presenting it here, like this early post only better. It will not be considered the same quality as survey data collected under an official research project, so nothing will ever be published from it, except here on this SIRVA website.
Even though I didn't design the SIRVA Survey using best practices for academic research, I thought about it very carefully. For example, compared to VAERS, there seems to be no control for duplication of incidents in their system, especially since health care providers are supposed to enter your information and you may have seen several providers. In the SIRVA Survey, I'm trying to control for this by (a) only asking the actual patients to fill it out (as opposed to their doctors), and (b) requesting people to take the Follow-Up Survey to provide more information as time goes on. However, as in any self-reporting survey, I can't necessarily control for mis-use of the system.
As far as follow-up, VAERS has an intriguing page that says someone "will contact you" if they want more follow-up information, but it's not specifically looking for the type of follow-up information that the SIRVA Survey aims to collect: what actually helped you? This is a question best answered when you can look back on your whole injury period with perspective, and not likely to be answerable in the early days when most folks fill out the SIRVA Survey. So, please don't forget to fill out the follow-up survey! Set yourself a calendar reminder for a year from now so your future self can come back and tell us how things are going!