At the time I started this website with my first post about SIRVA, I was almost exactly 2 months out from the fateful flu shot that caused my shoulder injury and was casting out for ideas about how to reduce the pain and recover sooner. Today is exactly 3 months out and I thought I'd provide an update on where things stand for me. Although at this point I still have more questions than answers, I have found other peoples' posts like this very helpful (like this one and the follow-up posts), so here is my experience.
Month 1: Panic, diagnosis
My flu shot was on December 13, 2017. It hurt right away, much more than in years past. About 2 weeks after my shot, still in intense pain, I went into an urgent care clinic (it was the holidays, I couldn't get an appointment with my doctor) and the doctor there was skeptical (didn't think it was the flu shot) but gave me a referral to an orthopedist (shoulder specialist) and told me to see my primary care doctor when I could.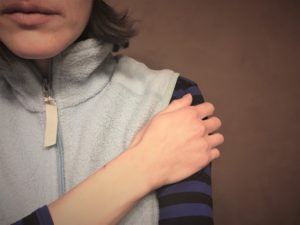 Month 2: Appointments with everybody
By the time I got an appointment with them, it was about a month after the shot. My orthopedist did a few tests with my arm to feel out the pain and immediately recognized that the problem was subacromial bursitis/impingement caused by the flu shot (UPDATE: This was probably not an accurate diagnosis of where the flu shot entered, but it was the best he could do with the tools available at his clinic.) He says he sees a "couple of cases of this every year" (so where are all of us? WHY DON'T MORE DOCTORS KNOW ABOUT THIS?) and said he thought it would resolve in about 3 months total. He ordered an MRI to confirm that there were no rotator cuff tears.
The MRI came back and my orthopedist told me he sees evidence of "significant fluid" in the subacromial bursa, confirming his original diagnosis (again, please read the update). He gave me a cortisone (steroid) shot to the subacromial bursa, along with a warning that it might not help; indeed, it increased my pain for a few days and when that wore off it wasn't any better.
I also started PT, but all of the practitioners I talked to were of the opinion that there's not much that can be done with physiotherapy for the actual primary injury (it is, after all, an immune system-generated reaction to the vaccine in the wrong place that causes the inflammation), but PT is important to avoid potentially getting a frozen shoulder. By the time I started PT, I had tension, stiffness, and pain in a whole constellation of muscles surrounding the injured shoulder. I find that PT helps with that, and they can work on "tightness" of the shoulder capsule, but they can't make the vaccine agents flush out of the shoulder joint any faster, as far as I know.
Month 3: Trying everything
I've been doing PT, home exercises, NSAIDs (440 mg naproxen twice a day), and all manner of balms and creams to take away the pain in these 3 months, and I just have to say that the pain goes up and down and I don't know what helps it and what doesn't. For the sake of my sanity, I've been running, also on the theory that pumping my arms will help with circulation in the shoulder (and it doesn't cause extra pain because it's not reaching overhead or anything), but I don't find that running helps or hurts. I have tried (briefly) acupuncture, laser therapy, kinesio tape, and massage. I can't say any of these things help, and they certainly hurt the wallet.
My pain surged greater for no apparent reason about 2 weeks ago (2.5 months out) and manifests right now as constant aching in the muscles around the shoulder, as well as sharp pain in the shoulder when I reach forward or overhead or behind me (as if to grab a seatbelt in the car). On the advice of the acupuncturist, I started keeping a pain diary, which will help me keep track of which treatments seemed helpful.
Please leave a message with your experience with SIRVA and please take the SIRVA survey so we can all learn more about what has and hasn't worked for you. THANKS!