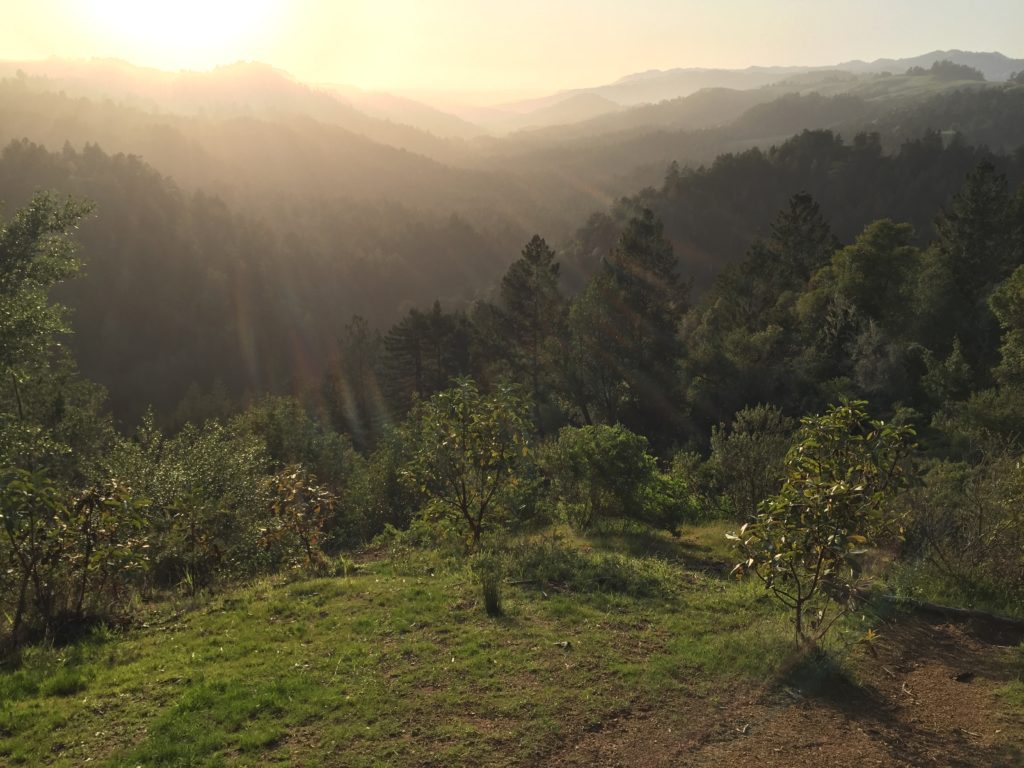 My orthopedist in my hometown has been helpful; he has seen a few Shoulder Injury Related to Vaccine Administration (SIRVA) cases before, and he is sympathetic and has been my advocate. However, I elected to seek out further help from a doctor who has been at the forefront of recognizing and treating SIRVA, Dr. Marko Bodor in Napa, CA. He was the first person to publish a journal article about his SIRVA patients and treatment options in 2007 (although the term SIRVA wasn't used at the time); the paper also contained measurements of the distances from skin to important structures in the shoulder in his patients and made a strongly worded recommendation in the paper that vaccine injections not be given in the upper third of the deltoid for risk of causing injury. He continues to do cutting-edge research on other medical problems and consults on a number of SIRVA cases. My visit with him and his team was extraordinary and I could not be happier about the plan he has developed for going forward with treatment.
The following post is long and full of details and medical jargon but I think it is extremely important for other SIRVA sufferers to hear all of this. Here is the takeaway message if you don't read it: Go see Dr. Bodor.
Any medical errors in the descriptions below are mine, not those of my doctor(s). I am trying to faithfully reproduce what I have learned, but I have no medical training and may misunderstand things. As always if anyone has a suggested correction please let me know.
Step 1: Identification of the Exact Site of Injury
Before first speaking with Dr. Bodor on the phone, I had not heard any mention of the teres minor (a part of the rotator cuff) from my doctor at home, who thought the vaccine was injected into the subacromial bursa. Dr. Bodor felt the MRI evidence for that was on shaky ground and that the teres minor insertion had a more interesting appearance on the images. While my physical exam at home was consistent with subacromial bursitis, apparently injury to the teres minor tendon closely resembles those symptoms, so the two are extremely difficult to distinguish in the doctor's office. If you saw my post on 3 months of treatment so far, you'll see that I had a cortisone/lidocaine injection to the subacromial bursa that didn't help one bit.
Dr. Bodor is an expert in the use of ultrasound for diagnostic imaging, which offers one improvement over an MRI of being dynamic, allowing in-person discussion and review while they probe the shoulder with its waves, and it allows the comparison of both shoulders at the same time to look for abnormalities. Not every specialist has the equipment or is trained in the use of diagnostic ultrasound, so as a tool in the arsenal of complex SIRVA treatment, it is important to seek one out. Using ultrasound, Dr. Bodor took extremely careful and repeated measurements of the structures in my shoulder and showed that my teres minor tendon was inflamed (tendonitis) and a small abnormality at the bone/tendon interface suggested that the needle hit bone. That explains why the shot was so painful at the time. It also makes sense anatomically: he measured the distance from skin to the humerus bone at the height the flu shot was given to me; it is 1.1 cm. The flu shot needle is 2.5 cm long (one inch).
To confirm the suspicion that the teres minor tendon is the source of my sharp pain on lifting my arm, Dr. Bodor injected the anesthetic lidocaine only (no steroid) very precisely into the spot with abnormalities on the ultrasound. I lifted my arm with no pain for the first time in 4 months. (Note that the subacromial injections from my doctor at home also contained lidocaine, so they would have also provided pain relief if that was the true site of injury.) The constellation of pain in the surrounding muscles of my shoulder and neck is also consistent with suffering from tendonitis of the teres minor, where other structures in the shoulder overcompensate for the injury and become tense and painful.
The correct diagnosis of the location of the mis-administered flu vaccine is extremely important to guiding recovery. For this alone I am so grateful to Dr. Bodor for what he has been able to accomplish – before even starting to discuss options and prognosis. Knowledge is everything.
Step 2: Make a Plan
With the site of the vaccine injection very accurately determined, it was time to make a plan. Based on the medical literature, there is no obvious "magic bullet" that will dissolve SIRVA pain, make the inflammation vanish, and immediately cure your shoulder. Multiple doctors and researchers have tried different things, and have written them up in the journals to try to help other doctors figure out treatments, but the number of studies is still too small to know which interventions have worked. Besides, every SIRVA case is different, both in terms of the exact site of injury (based on precise location, angle, and depth of the needle) and the body's individual immune response to the agents in the vaccine (which may depend on factors such as having previously received the same vaccine).
Given the location of my flu shot and the damage to tendon and bone, Dr. Bodor, who is also a leading expert in rehabilitation medicine and is actively researching stem cell and platelet-rich plasma (PRP) approaches to enhancing the body's healing mechanisms, ultimately recommended a bone marrow stem cell and PRP injection.
However, he first decided to try something simpler and less painful/invasive (the extraction of bone marrow stem cells from your own spine is apparently not comfortable). He explained to me that studies have shown that simply provoking an inflamed or injured area with a needle can kick-start the body's response to healing by sending the right kinds of cells to the area, and there is also precedence in the literature for using saline to "wash out" or irrigate the site of a vaccine-induced shoulder injury. So, he made a plan to wash out the area (under precise ultrasound guidance for where to put the needle) with a combination of 3 mL of saline solution with the anesthetic lidocaine.
Step 3: Injection
I returned to his office the next day (which he very thoughtfully scheduled) and he took the time to do this injection with great care. There was nothing like the typical doctor's appointment (in my previous experience) where your doctor is rushed, overworked, and distracted; he was 100% focused on my shoulder and I finally felt like I'd found a doctor who cares as much as I do about healing my shoulder. He injected the solution into the precise area to do irrigation of the tendon and gentle debridement of the bone area. While I was there he also did some other trigger-point injections to help relieve the tension in the surrounding muscles.
I also learned something important during this appointment. We talked about how I had been prescribed high doses of NSAIDs (I used naproxen/Aleve) for the pain, and how I took them for 3 months because it was somewhat effective for the constant regional shoulder/neck/scapular pain (although not for the sharp pain). Both my primary care doctor and orthopedist had encouraged the high dose and even to increase the dosage when the pain spiked. Instead, Dr. Bodor explained that some of the current research suggests that NSAIDs may block the body's natural healing responses to tendon injuries because of the way the medicine blocks pain so effectively. (I am sure I'm oversimplifying this. Consult a doctor for real medical advice.) Maybe with subacromial bursitis it would have been a good thing to be on NSAIDs, but for healing tendon injuries there is a new way of thinking in the medical community about not overusing NSAIDs. I probably should not have taken them for 3 months.
For the pain in the surrounding muscles due to overcompensation and guarding the injured shoulder, Dr. Bodor recommended continuing to see an acupuncturist for trigger-point release, and he provided me with measurements based on the ultrasound help my acupuncturist locate the right points. He was also very patient and considerate with my constant questions and explained to me the medical mechanisms of why acupuncture could potentially help for this, which is something I've always wondered.
Step 4: Assessment
Now that the simple solution has been tried (injection of saline to wash out the area and provoke a healing response), I am to wait 1-2 months to see if things improve. They are not expected to improve quickly: The lidocaine anesthetic wore off after a few hours, as it does, and 2 days later the area is irritated from the poking and wash out. I now know to think of that irritation as a good thing, not something to be masked with NSAIDs, because, fingers crossed, it could provoke the body to heal the area.
If it doesn't, I will return in June to try PRP/bone marrow stem cell injections under his precise ultrasound guidance. Dr. Bodor is realistic about the uncertainty in whether these solutions will work. No one knows yet how best to fix SIRVA shoulders, but Dr. Bodor cares deeply about trying to find out. I feel like I am in the best of hands with Dr. Bodor; I think he is a brilliant and compassionate scientist/doctor.
—————————
For the second time in two days, with the anesthetic in the injections, that afternoon I enjoyed a few short-lived hours of respite from my shoulder pain and in the evening I went for a blissful run on the beach at Bodega Bay, filled with relief and gratitude and hope and far more knowledge than I came in with.